© BY B SHAWN CLARK - ALL RIGHTS RESERVED (AS TO ALL CONTENT AND REFERENCED WORKS)



Except for scattered, unconfirmed sightings, the last anyone seemed to hear about their fate came with the publication of the 1988 version of The Last of the Curlews which included a forward by a Pulitzer Prize winning former U.S. Poet Laureate. He was living in a palm forest on the island of Maui.
Poetic Injustice was the message the Raven had apparently come to deliver at the chamber door. He listened and heard the epitaph of his poor relation that was never more. They formed words that came from beyond his consciousness, spilling out onto the page: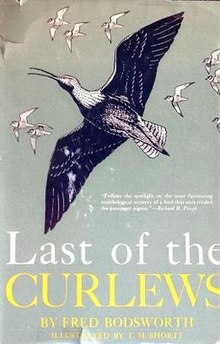 What the humans had done to the Eskimo Curlew became the subject of a 1954 novel by a Canadian journalist and naturalist called The Last of the Curlews. In 1972 an animated version of the story became the first episode in an American anthology series called The After School Special.
The episode won an Emmy Award for Outstanding Achievement in Children's Programming. But like the species itself, stories of what was done to the Eskimo Curlew became lost, buried by time and indifference. They became like ghosts, memories of their epic flights across two continents fading like the smoke from the barrels of the guns that silenced them forever.
From a frozen tundra
The Curlews flew
To sun-drenched shores
And prairies
Escaping to
Their southern haunts
From solid water
The snowbirds fled
To new frontiers
And old ones
Escaping to
Their haunted climes
From the cold hard truth
The Eskimo birds came
To know their destiny
And fate
Escaping to . . .
Oblivion