© BY B SHAWN CLARK - ALL RIGHTS RESERVED (AS TO ALL CONTENT AND REFERENCED WORKS)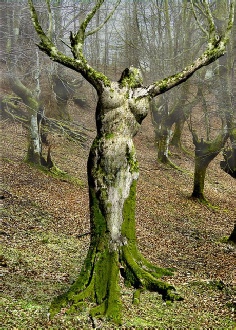 Centuries before, the peoples of this valley that still bears their name had bent these trees not to their will, but to show the way along a path they should follow. They were long gone now, the sounds of their voices absorbed into the trees that had guided them, and the mountains that still echoed their names throughout the ages.
He lent an ear and listened intently to the wind and the trees singing their own songs.
He closed his eyes, transporting himself to a time 400 years ago when those same songs could be heard at this very spot.
The creek babbled its babbling nonsense that humans could not fathom as the sounds of life-giving fluidity caressed the hard surfaces that channeled its constant movement towards an inevitable destination below, over and then through all of the living things in the world.
A bird voiced her message many humans thought of as a song, but which more likely was a call of alarm to her usual companions there in the wood to beware of yet another intrusion by one of THEM: The two-legged creatures they instinctively knew posed a threat to their very existence.
She soon fell silent, leaving the man to focus on the sounds that to the humans would be regarded as sounds of nothingness echoing through a vacuous place. There at his desk, he replied thusly:
QUIET SONG
Be Still
Listen
Only to your breath
then the breath
of the wind
rustling leaves
of trees
Hear the whistle
sharp and melodic
calling out to you
calling your name
beckoning you
to come closer
to be still
to listen
to hear things
that have been
silent
to you
Be still
Listen
Then hear