© BY B SHAWN CLARK - ALL RIGHTS RESERVED (AS TO ALL CONTENT AND REFERENCED WORKS)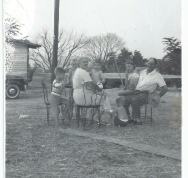 One of seven children born to Norman and Mary Clark, B Shawn Clark spent his formative years at a farm in Wisconsin that he shared with his brothers and sisters (and from time-to-time their grandparents, the Reverend Dewey M. and Mrs. Clara Scott). Theirs was a creative family, with the poetry and sermons of Dewey Scott to inspire; an ancestral devotion to music from the traditions of Appalachia; the versatile talents of their mother at the piano and other instruments; the less talented but still earnest efforts of their father with the banjo; and all giving their best efforts towards the greater enterprise and enjoyment of their creative endeavors.
Named after a poet, and true to his namesake, Clark, starting at an early age, wrote short stories, poetry and prose, and, on occasion, dramatic presentations. At the age of 10, he wrote, directed and co-stared (as the female lead) in his adaptation of a well-known Shakespearian work he re-titled Roneo and Julie, produced (out of his next-door neighbor's garage) using hanging bed sheets as the set for the play. He continued his creative pursuits while attending to his more practical studies in the pursuit of a Bachelor of Science degree and, later, a juris doctor, at the University of Florida School of law. During his studies he continued to pen poetry, stories and, adding to his repertoire, his first screen play, entitled Photo Finish, a story about a future world of reality TV centered on televised executions.
His experience as an idealistic law student learning to cope with the more cynical view of life and the law among his classmates (and eventually a number of judges) laid the groundwork for his first novel, about the travails of protagonist Earl Warren, that he was to later write under a nom de plume. Having survived law school with his idealism intact, B Shawn moved to Miami, where he began his career by defending Haitian refugees being deported to the brutal dictatorship of Jean-Claude ("Baby Doc") Duvalier, and as a civil rights attorney, earning him the (apparently intended) opprobrium "the William Kunstler of Miami".
Later, he became host of You & The Law that aired on WLRN, a local PBS affiliate, until, that is, the station refused to air a show featuring recently acquitted Judge Alcee Hastings, due to its controversial subject matter. B Shawn Clark continued his activism, and his creative ventures, during his time in Miami. While representing clients in a variety of cases, he found time to write, co-produce and narrate a mini-documentary about a neighborhood beset by crime called Battle for Biscayne Boulevard that was the subject of the nationally syndicated program The Reporters (and as the lead story on all four local network affiliates).
Drawing from the experiences he had in these cases, and others, Clark has begun to write a series of short stories based on the character of Earl Warren developed in A Matter of Principle. Leaving the urban jungle of Miami behind to settle in the sleepy seaside town of Englewood, Clark embarked on a new phase of his career, focusing more on conservation and the wise stewardship of the land we all inhabit together.
During this time he began work on his next novel, 20/20, that tells the story of a future world, well past the tipping point of environmental degradation (and the end of the industrial revolution) from the point of view of a man living in that world, reminiscing about his life as a young boy who, back in the 2020s, learned, with the help of a hermit, his "Amazon Princess Warrior" and a lost tribe of indigenous peoples, how he and his family could survive in a rapidly changing world of violent storms descending on their Miami community.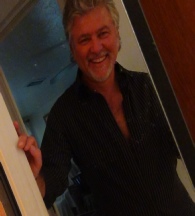 B Shawn entered a new phase in his life and career when he closed down his physical offices and retreated into partial sabbatical to a self-styled "Man Cave" set in a wooded area along Gottfried Creek. There, he has been better able to devote more time to his authorship, and less so to the full-time practice of law.
So far, in addition to finishing work on 20/20, he has produced three short stories in a "Vision Quest" series (featuring an unnamed narrator on a pilgrimage around the world in search of meaning to his life); two works of non-fiction, one called Four Tasks: A Field Guide to Negotiating the Pathway to Adulthood and the other called How to Save the World in 12 Easy Steps.
He has also added to an extensive inventory of poems, one of which, entitled The Great Escape, received an award by the Florida State Poets Association and became part of one of the Vision Quest stories bearing the same title. He also has written numerous essays and opinion pieces, managing to have a series of essays on the Top Ten Environmental Songs of All Time published in the e-magazine New Southerner. He continues with his commentary on the Disqus platform, posting over 3,000 comments and generating many replies, up-votes and followers and updating his website Planet Englewood. He is currently working on a series of short stories based on the characters developed in A Matter of Principle, as well as a screen adaptation of that book and 20/20. When he is not working on those projects, he now continues to practice law in his "spare time", while also working on the business side of writing: getting recognized and, of course, getting published . . .
This inspired him to write his second screenplay Mr. Roger's Neighborhood about a community pushed to the brink of vigilantism by a persistent burglar. In the course of his legal career Clark became a prolific author not of the literary fiction he so dearly loved but of numerous legal briefs presented to a readership of three judges in each case who were apparently sufficiently impressed with his writing style (and his arguments) to have published opinions in numerous cases on a variety of topics appearing in law books throughout Florida (and nationally).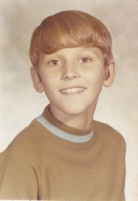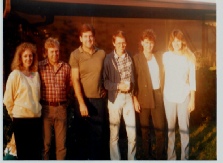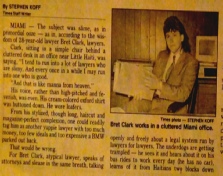 From Late 80s Press Clipping